Felt Flat Roofing installation and Repairs Glasgow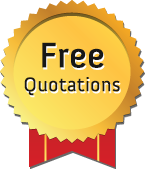 Flat roofs can be notorious when it comes to needing repairs. Physics determines that, due to a lack of 'pitch', or slope on the roof, water can pool up and slowly rot the materials in place. And, as with any roof, add in the varying elements - from extreme hot to extreme cold - and you have a recipe for disaster.
But help is at hand! We are a reliable and trustworthy source with many years of flat roofing experience servicing the homes of Glasgow. Our team of professional roofers will repair or replace your flat roof promptly and efficiently at a very competitive price. We can offer flat roofing in EPDM rubber, felt and GRP fibreglass. All of our high grade materials are fitted by highly skilled roofers who leave a quality finish with every job that they undertake.
Superb selection of flat roofing solutions
Regardless of your needs, our Glasgow based roofing contractors are able to assist you and all our services are affordable. Get in touch for:
Flat roofing design & fitting
Flat roofs in fibreglass, felt & rubber
Restoration of flat roofing
General flat roofing care
Contact us for flat roof repair
Our team of professional roofers offer outstanding levels of workmanship across Glasgow. We go the extra mile to guarantee a courteous, on time service, leaving our clients satisfied and confident in the knowledge that their flat roofs will provide superior, maintenance free protection for their property for many years to come keeping them and their families warm and safe.
Flat roof repairs and installation, installed by our experienced tradesmen are covered by our excellent guarantee. This gives you added reassurance and security. To get a free estimate from us, just telephone us on Glasgow 0141 340 9910 and we'll provide one for you.