Affordable Chimney, Flashing, and Pointing Repairs Glasgow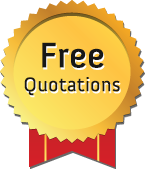 If you think about it, your chimney takes a massive amount of abuse from the Scottish weather. And, with Scotland's unpredictable weather pattern, it is difficult to know what effect the weather is going to have on your chimney. This means that it's absolutely crucial that you maintain the integrity of your chimney, the flashing, cowels and make sure that any re-pointing, cracks, breaks or repairs that need fixing get done so before they escalate into a serious problem.
We have years of experience in dealing with chimney repairs in and around the Glasgow area. Whether it's making sure your chimney is safe, replacing or re-pointing mortar or removing and replacing the flashing, call us. Our expert team have the skills, knowledge and know-how and deliver every time.
Got chimney problems? Then put your trust in us
You can call us with complete confidence. We're Glasgow's local chimney restoration specialists who have everything needed to get everything back in good condition. Call us for assistance with:
Repairing chimney stacks
Repairing lead flashing
Fixing loose or weathered bricks
Re-pointing of crumbling mortar
Sealing off unused chimneys
Fitting new or replacing old cowels
One quick call and we'll quote you for free!
We can provide free estimates for any work that you require in Glasgow, so give us a ring on 0141 340 9910. Of course, it's not just chimney repairs that we specialise in. We are experts in a wide range of roofing solutions too, so there's no need to worry, whatever you need, we've got the people, the tools and the skills to do it to a high standard. Don't leave it to chance and risk damage to your home or injury to you or your family - call us right away to get your chimney safeguarded by local professionals.